Differentiated Art Instruction for Students with Learning Disabilities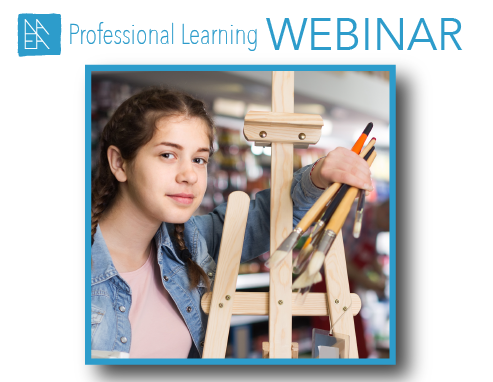 Differentiated Art Instruction for Students with Learning Disabilities
Wednesday, May 13, 2020 | 7-8 pm ET
FREE for NAEA Members; $49 for non-members
Different teaching strategies are necessary for students with learning disabilities. However, all students can benefit from quality instruction that comes with the careful planning that goes into preparing these lessons. What does differentiated instruction actually look like for students with learning disabilities? Delve into support for the needs of students with language-based learning disabilities; processing and memory retention issues; cognitive impairments; attention deficit disorders; social/emotional challenges; and struggles with executive functioning. See concrete examples of what differentiated instruction looks like in high school digital art, photography, ceramics, and sculpture classrooms in order to connect with and meaningfully engage all learners, in a way that can be applied across grade levels and artistic media.
Ashley Szczesiak
Ashley Szczesiak

MA Art Education, K-12 Teaching Certification Art Educator
Ashley Szczesiak is an artist and educator who taught for four years at the Mary McDowell Friends School in Brooklyn, New York, a school that exclusively serves students with learning disabilities. She has also worked as a full-time classroom teacher in Chicago and as a teaching artist, project manager, and community activist with government and non-profit organizations in Vermont, New Hampshire, North Carolina, Arizona, New Mexico, China, Colombia, and Spain. In addition to an MA in Art Education, Ashley has a BA in Film and Media Culture Studies and the History of Art and Architecture. She has taught Ceramics, Woodworking, Sculpture, Painting, Drawing, Design, Photography, and Digital Media/Video/Animation to K-12 students and college undergraduates. Ashley has held performances and lectures at the NAEA National Convention with a research-based artist collective with focuses on the scientific method as research strategy, project-based learning structures for students with learning disabilities, teacher best practices, and narrative approaches to enacting social justice.
$i++ ?>
Sarah Warshaw
Sarah Warshaw

MA Art Education, K-12 Teaching Certification Art Educator
Sarah Warshaw is an artist and educator who has taught in New York and San Francisco. Along with her MA in Art Education, she has a BFA in Photography and Imaging. Sarah began working as a teaching artist in 2008, and has facilitated learning experiences in a range of educational settings with students as young as 3 years old through mature adults returning for continuing certifications. She has been a teaching artist with various museums and organizations, as well as a classroom teacher in Brooklyn, New York. Sarah taught for two years at Mary McDowell Friends School, a school that exclusively serves students with learning disabilities. Previous presentations at NAEA National Conferences include the topics of infusing the curriculum with pop culture and supporting students with learning disabilities through differentiated instruction. Above all else, she enjoys traveling and sharing her enthusiasm and joy for exploring and creating in various media with others.
$i++ ?>
Upon completion of this NAEA webinar, you may earn 1 hour of professional development credit as designated by NAEA. Once the webinar is completed, you may view/print a Certification of Participation under the "Contents" tab. You may also print a transcript of all webinars attended under the "Dashboard" link in the right sidebar section of the page.
Clock hours provided upon completion of any NAEA professional learning program are granted for participation in an organized professional learning experience under responsible sponsorship, capable direction and qualified instruction, and can be used toward continuing education credit in most states. It is the responsibility of the participant to verify acceptance by professional governing authorities in their area.
Components visible upon registration.